Brook PS3 to PS4 Super Converter WHITE
This item is
out of stock
PS3 to PS4 Controller Adapter lets you use your PS3 controllers to play PS4 and PC
The Brook Super Converter series makes old controllers compatible with new consoles. This particular model, the PS3 to PS4 Controller Adapter, lets you use wireless PS3 controllers such as gamepads, dancemats, joysticks and racing wheels with PS4 game consoles and PS4 on PC.

This not only saves you money but also means that you can use the wireless controllers you have grown accustomed to. Installation and use of the PS3 to PS4 Controller Adapter is effortless.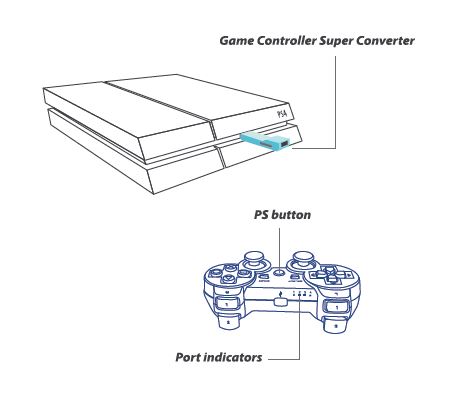 Features:
Compatible with gamepads, joysticks and racing wheels
Hot swapping
Auto-register controllers
Optimal button mapping
Vibration support
Lightweight and USB sized
Works with PS4 and PC
Bluetooth supports wireless controllers
Full compliance with environmental standards
USB interface
Remembers up to 4 controllers
No original controller needed for verification

New Functions:
Super converter releases a new function to offer your controller a simulated touchpad button of PS4 controller.
PS3 controller: Use the "Select" button and the R stick to simulate the touchpad button.
Another new function: Use the "SELECT" button and the "START" button to simulate the "SHARE" button.

Button Configuration:
The Brook Controller Adapter recognizes wireless PS3 controllers and PS3 steering wheels and automatically configures all buttons as shown in the map below. No switching is required.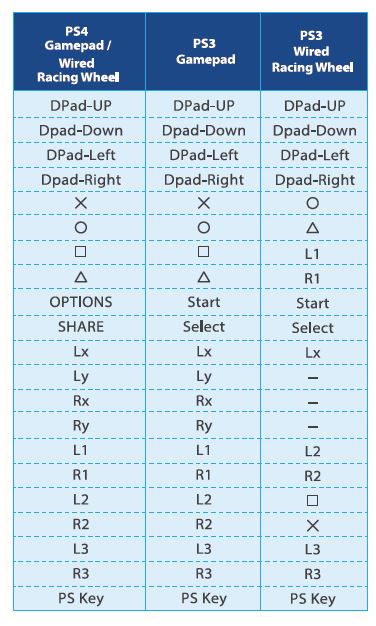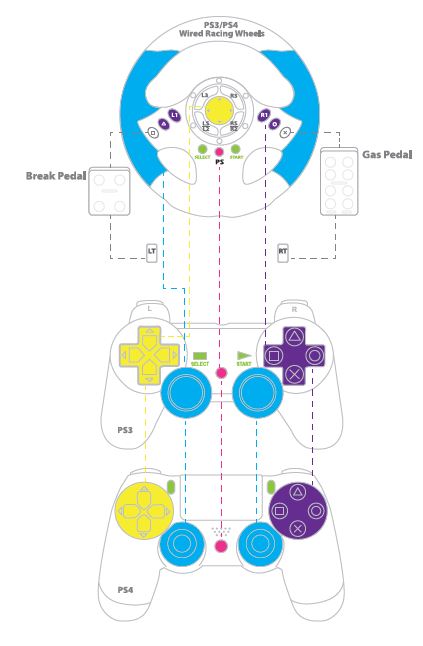 GT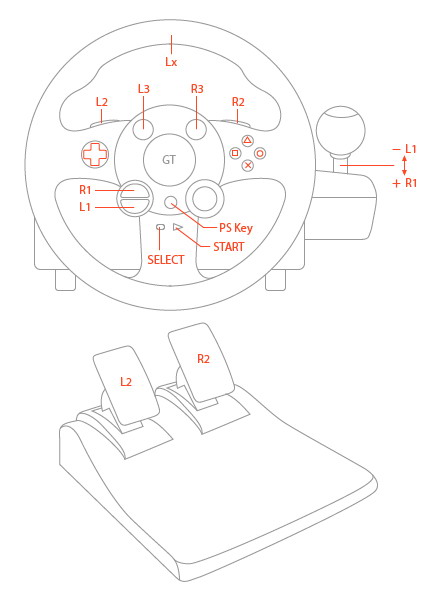 G27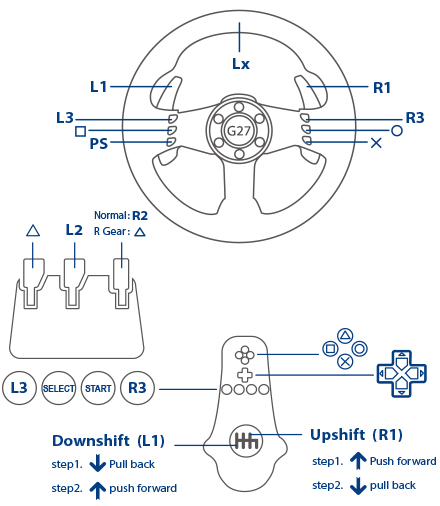 G29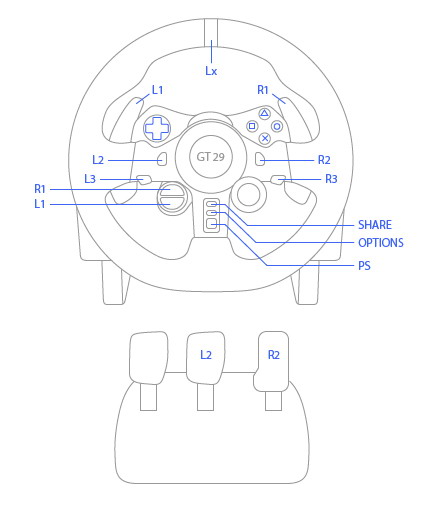 Disclaimer:
* Each Brook Controller Adapter can only handle one wireless PS3 controller at a time.
* Wireless PS3 controllers connect to the Controller Adaptor automatically, but must be connected with a USB cable at first time use for the purpose of registering the controller.
* After registering a wireless controller and unplugging the USB cable, please wait 3-5 seconds before pressing the PS button to ensure that the connection to wireless is smooth.

Compatibility
he list below indicates the controllers/sticks/wheels that have been tested to be compatible or not compatible with the converter.
For those controllers/sticks/wheels which are not listed indicates that they have not been tested yet.

Compatible:
Activision:DJ HERO
Activision:Guitar Hero Live
Akishop:PS360+
BD&A:POWER A FUS1ON Tournament Controller for PS3
BD&A:PS3 Wired Controller Air Flo
Double ShackⅢ:Wireless Controller
Datel:Wireless Controller
Etokki:Omni Arcade Stick -Sanwa Edition
Flash Fire:F1 Racing Wheel
GUITAR HERO:GUITAR
HARMONIX:Rock Bond
HORI:STEERING CONTROLLER
HORI:Real Arcade PRO V4
HORI:DEAD OR ALIVE 5 Last Round
HORI:Wireless FS-3
HORI:Real Arcade Pro.3
HORI:Real Arcade Pro.3 SA
HORI:RAP V3-SA
HORI:WIRELESS REAL ARCADE PRO.V3
HORI:Real Arcade Pro. 4 Premium VLX
HORI:PS3 PS4 PS4-043 Mini Fight Joystick
HORI:Hori Fighting Edge 刃 for PS3
HORI:PS3 Hori Fighting Min3
HORI:HORI PS4 Wired Controller [PS4-025]
HORI:HORI FIGHTING COMMANDER
HORI:PS3 Wired HORI Fighting Commander 3
HORI:Wired Controller
HORI:Tactical Assault Commder for PS4/PS3
HORI:HORIPAD3 TURBO
HORI:Project DIVA
HORI:Real Arcade pro V HAYABUSA silent 2017 version
HORI:Fight Stick 3
HKS:racing controller
Injustice:Gods Among Us FIGHT STICK
Konami:Dance Mat
KDIT:King Snake Metal Arcade Fightstick 2013
KDIT:King Snake Metal Arcade Fightstick 2014
KDIT:Fightstick for PS3/PS4
Quadstick:Quadstick
Logitech:G27
Logitech:G29
Logitech:Driving force GT
LEVEL UP:PS2/PS3 Wireless Controller
LEVEL UP:PS2/PS3 Wired Controller
QANBA:Drone
QANBA:Q1
QANBA:Q4
Red Octone:GUITAR HERO
Razer:Panthera Arcade Stick
PDP:Mortal Kombat X Fight Pad for PlayStation 4 and PlayStation 3
MAKESTICK :IST MAKE PRO 1030
Mad Catz:Arcade FightStick Tournament Edition 2
Mad Catz:MadCatz Arcade FightStick TE2
Mad Catz:Street Fighter Tournament Edition S
Mad Catz:Street Fighter®V Arcade FightStick™ Tournament Edition 2+ for PS4 & PS3
Mad Catz:Street Fighter®V Arcade FightStick™ Alpha for PS4 & PS3
Mad Catz:Street Fighter®V FightPad PRO™ for PS4 & PS3
Mad Catz:Super Street Fighter IV Tournament Edition S Fight Stick PS
MadCatz:Super Street Fighter IV Tournament Edition S Fight Stick PS3 - Chun Li
MadCatz:Tournament Edition for PS3
MadCatz:Tournament Edition Round 2 for PS3​
Mayflash:Arcade Fightstick F300 for PS4 /PS3 /XBOX One/ XBOX 360/ PC
Joytron:Paewang Revolution
Game Stop:Wired Controller
SONY:Wireless Controller
SRK TOODLE:Toodles Cthulhu Multi-Console PCB
SEGA:VIRTUA STICK HIGH GRADE PS3
SCUF:PROFESSIONAL CONTROLLER FOR PS3
Saitek:Wired Controller
Venom:Venom arcade stick PS4/PS3

Not Compatible:
Logitech:Driving Force Pro
Logitech:G25
Logitech: Driving Force
Thrustmaster:Thrustmaster T300RS
Thrustmaster:T60
Thrustmaster:Ferrari Wireless GT Cockpit 430 (Scuderia Edition)
Thrustmaster:T-Flight Hotas X Flight Stick
HORI:PS3 Soulcalibur V Arcade Stick
HORI:Tactical Assault Commander Pro (TAC Pro) KeyPad M1
HORI:Tekken Tag Tournament 2 Hori Stick for PS3
Fanatec:Club Sport V2 wheel base and the club sport V2 pedals
Splitfish:FragFX Shark wireless ps3
SEGA SATURN:SLS CONTROL PAD
| | |
| --- | --- |
| Brand | Brook |
| Code | P4-WHITE |
| Weight | 0.075kg |
Shipping
Please add your item to the basket and select your country to get a postage quote. UK Economy delivery is free to mainland UK for orders above £50, Europe from £5.99. Express delivery from £3.99 UK, £9.99 Europe.
Your order will be shipped as soon as possible. We dispatch daily Monday to Friday. Usually orders received before 12 noon are sent the same day.
We mark items as dispatched as soon as they have been packed and ready to be collected by our carrier, so if you receive a dispatch notification on an evening or a weekend this means your order is ready and will be collected by our carrier on our next working day.
We will always choose the most appropriate shipping company for your order. Generally free or economy shipping is sent by Royal Mail & Express shipping by either FedEx or Interlink. Sometimes we use Amazons fulfillment service so don't be alarmed if your order arrives in Amazon packaging or you receive a tracking update from Amazon.
Tracking is only made available for Express deliveries. Unfortunately delivery is not available to all locations (Remote areas) we reserve the right to cancel an order or ask for additional money for shipping if your address is affected, we will notify you as soon as possible if your order is affected.
Delivery must be to the address associated with your verified PayPal or credit/debit card account. If your address is not verified by Paypal your order may be cancelled. To get verified please visit the Paypal website.
We will do everything we can to make sure your order arrives on time, but please allow extra time during busy periods such Christmas and Holidays or in extreme weather conditions.
We don't allow collection sorry.
Lost or delayed items
If you are concerned your order may be delayed then please email
help@adzdistribution.co.uk
quoting your order number. Please note that Economy International orders sent by Royal Mail are not counted as lost until 25 working days after dispatch. UK Economy orders sent by Royal Mail are not counted as lost until 15 working days after dispatch so until this time we are unable to replace missing items.
Returns
If for any reason you are not entirely happy with your purchase you are welcome to return it for a refund or an exchange within 30 days.
All items come with a basic 30 day warranty if they develop a fault which was not listed in the description. For items such as XIM and JFJ who we are UK distributors for we can offer the 1 year manufacturers warranty.
As a rule the buyer is responsible for any return costs. At our own discretion we may offer to pay your costs. Enhanced delivery costs such as express delivery are non refundable when no fault can be found.
To start the refund process please contact us by email
help@adzdistribution.co.uk
Cancellation of Orders
You are able to cancel your order prior to shipping with no cost penalty being incurred and full credit of your account if monies have already been taken. You can cancel an order by emailing us at
help@adzdistribution.co.uk
and quoting your order number.
5 stars
based on
1 review
Benny Mombaerts
from Belgium
"Very simple to install. It is really like it is stated in the video 'Plug & Play'. Now I can reuse my Logitech Driving Force GT on the PS4 to play Dirt Rally VR AWESOME. Delivery and service from ADZ is impeccable."